It is an honour to announce that Computer Society of India is organizing its 54th Annual Convention from 11th Feb., 2021 till 14th Feb., 2021 at Indira Gandhi Pratishthan, Gomti Nagar, Lucknow on the Theme "Digital Transformation – eReadiness for Self Reliance".
Pre-Convention Tutorial will be held on February 11,2021. The Convention "Anvesh" will be inaugurated on 12th February, 2021. More than 500 delegates, from all walks of life, from academic institutions, government departments, industry houses and other stake holders shall be attending the Convention.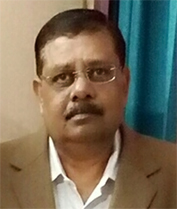 Mr. Arvind Sharma
Regional Vice-president
The Annual Convention of CSI is always an important and prestigious event of the Society being held since the year 1966 when CSI-66 the first Annual Convention with the theme An Ideal Computer Map for India was held at Kolkata. Since then this annul mega event of the Society has been organized at different cities of the country, which were having infrastructure facilities for organizing such events.
This year this is being organized at Indira Gandhi Pratishthan, Gomti Nagar, Lucknow which has the required infrastructure and facilities. Like earlier Conventions, there will be invited lectures and general speeches of interest, paper presentations, panel discussions in multiple/ track sessions, covering diverse topics of general and technical interest. We plan to get the Proceedings of selected papers published by Springer. The theme will deliberate on different issues related to our e-Readiness towards embracing the storm of technical developments and our efforts to ensure that the benefits of the technological advancements are reached to the last person living in the remotest area of our country. There will be exhibition stalls as well where state-of- the- art and emerging products and services will be showcased and demonstrated to the interested delegates.
I am sure extensive opportunities will be available to encourage interacting and build everlasting relationship among all the participants in the Convention at all levels and also with the number of sponsors/partners at different levels.
We firmly believe this Convention will be a grand success and contribute actively towards the holistic development of the Society and make the digital mission and social transformation in the years to come.
Arvind Sharma,
Regional Vice-president, Region-I,
Computer Society of India